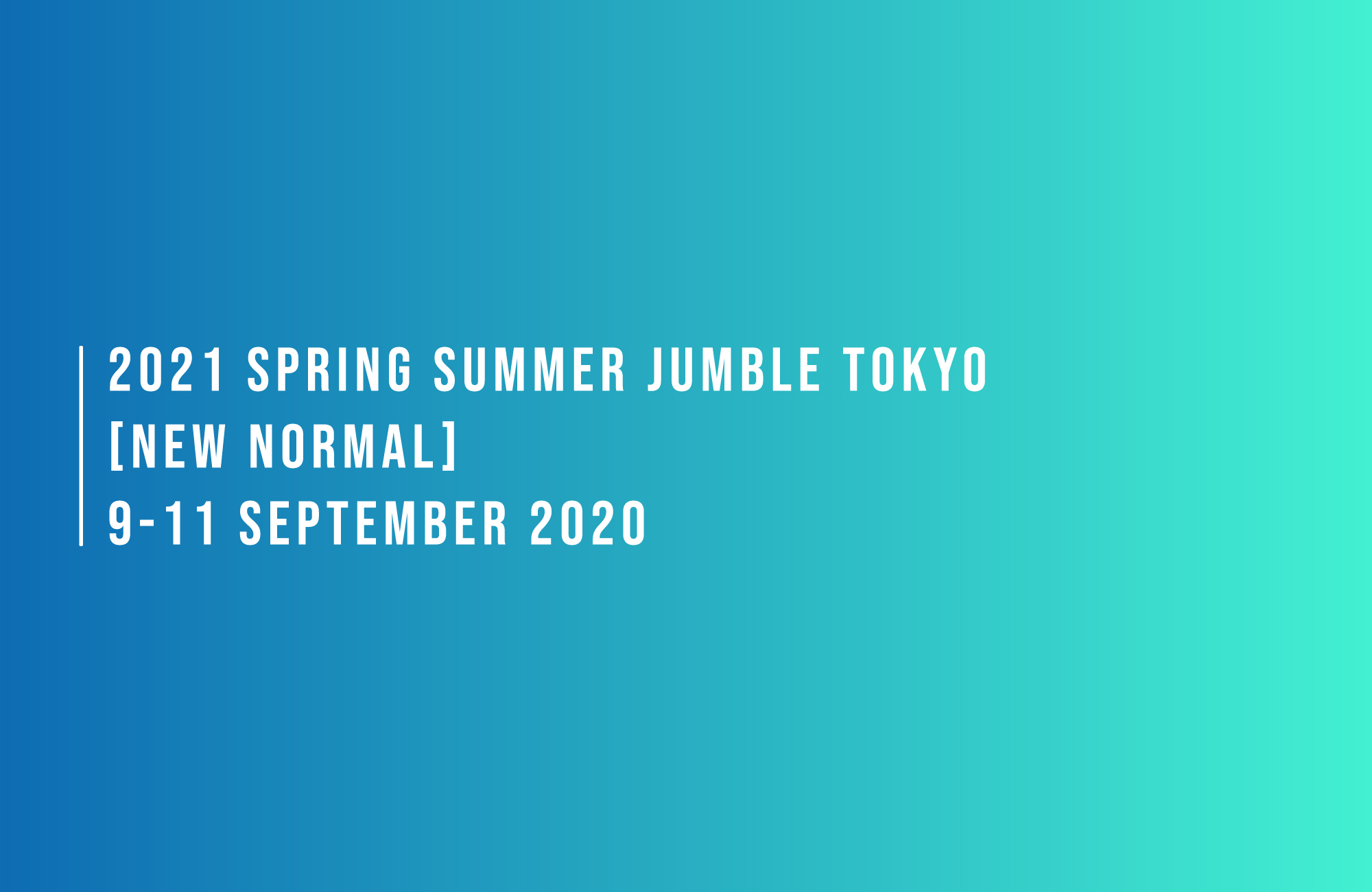 For more information update soon!
Jumble Tokyo web showroom coming soon !
NEXT
JUMBLE TOKYO Autumn / Winter 2020
Theme_〈 De Facto Sustainability 〉
DATE:
13 – 15 March 2019
Wed: 10AM-6PM
Thu: 10AM-6PM
Fri: 10AM-4PM
VENUE:
Bellesalle Shibuya-first HALL B1
1-2-20 HIgashi Shibuya-ku, Tokyo Japan 150-0011
ACCESS:
• 

JR Yamate Line,Ginza Subway Line,Toyoko Line:Shibuya Station

(East exit) getting off 8 minutes.
• Hanzomon Subway Line,Fukutoshin Subway Line:Shibuya Station(NO 16C exit) getting off 7 minutes.
• Hanzomon Subway Line,Fukutoshin Subway Line:Shibuya Station(NO 15 exit) getting off 8 minutes.
• Ginza Subway Line,Hanzomon Subway Line,Chiyoda Subway Line:Omotesando Station(B1 exit)getting off 10 minutes.
ABOUT US
" WHAT IS JUMBLE?"
For more than 10 years in the Tokyo fashion scene, the trade show, JUMBLE has played a major role amongst Japanese clothing brands, accessories, home goods, as well as works of art within the industry.
What makes Jumble unique is its vow for "quality first." Our dedication is defined in its encouragement of local production and a long lifespan of goods through the careful selection of raw materials, perpetual design, and skilled craftsmanship.
Our vow for longstanding quality may counteract the rapidly changing marketing strategies within the fashion business that cater towards fashion trends or growing businesses.
However, JUMBLE and its 200+ vendors have collectively taken an initiative to present their story behind every produced product; who, how, and where our goods are produced within Japan.
Due to our collective efforts, we have played a large contribution within slow and sustainable fashion trends globally. JUMBLE has been featured in MONOCLE and other major media outlets throughout Japan and has gained tens of thousands of customers both locally and from across the world.
Postponement JUMBLE TOKYO
Jumble Tokyo decided to postpone 2020 Autumn Winter exhibition due to the <coronavirus>.
We are sorry for having to reach this decision.
Our new schedule will inform to you soon.

Project Jumble Tokyo